The Chronic
The Chronic is a quarterly gazette published by Chimurenga.
It is a publication borne out of an urgent need to write our world differently, to begin asking new questions, or even the old ones anew.
When will the new emerge – and if it is already here, how do we decipher it? In which ways do people live their lives with joy and creativity and beauty, sometimes amid suffering and violence, and sometimes perpendicular to it? How do people fashion routines and make sense of the world in the face of the temporariness or volatility that defines so many of the arrangements of social existence here?
These questions loom over a contemporary Africa. Yet most knowledge produced on the continent remains heavily reliant on simplistic and rigid categories unable to capture the complexities that inflect so much of contemporary quotidian life here.
The Chronic is one small, deeply subjective attempt to do things differently. Ironically, we started with what we know, taking inspiration from the flexibility, readiness to take risks, and ability to manoeuvre through different temporal orders that defines life here.
We recognised the newspaper – a popular medium that raises the perennial question of news and newness, of how we define both the now and history, as the means to best engage the present; this question of thinking and writing critically about contingency and human agency today. We selected the medium both for its disposability and its longevity, its ability to fashion routine in a way that allows us to traverse, challenge and negotiate liminality in everyday life.
We wrote, we got our friends and partners to write, draw and photograph, we edited, and we compiled. We sought out stories that articulate the complexity, the innovation, thinking and dreams – all the things that make life sustainable in this place. We favoured writing, art and photography that is open, plural, and inflected by the workings of power, innovation, creativity and resistance – yes, resistance.
We arrived at a gazette, a collaborative living document that seeks out our capacity to continually produce something bold, beautiful and full of humour. We titled it the Chronic, a nod to both the art of chronicling, of documenting historical events in real time (the time-zone we call 'now-now'), and because things are, well yes, chronic.
The success of this initiative is not how long it lives but that it lives fully, that it travels and inserts itself directly in our lives, takes its place and speaks to the place in which we live, love and work.
The Chronic is available from our store as a print publication and PDF.
Chimurenga 16: The Chimurenga Chronicle (October 2011) Print
CJ1011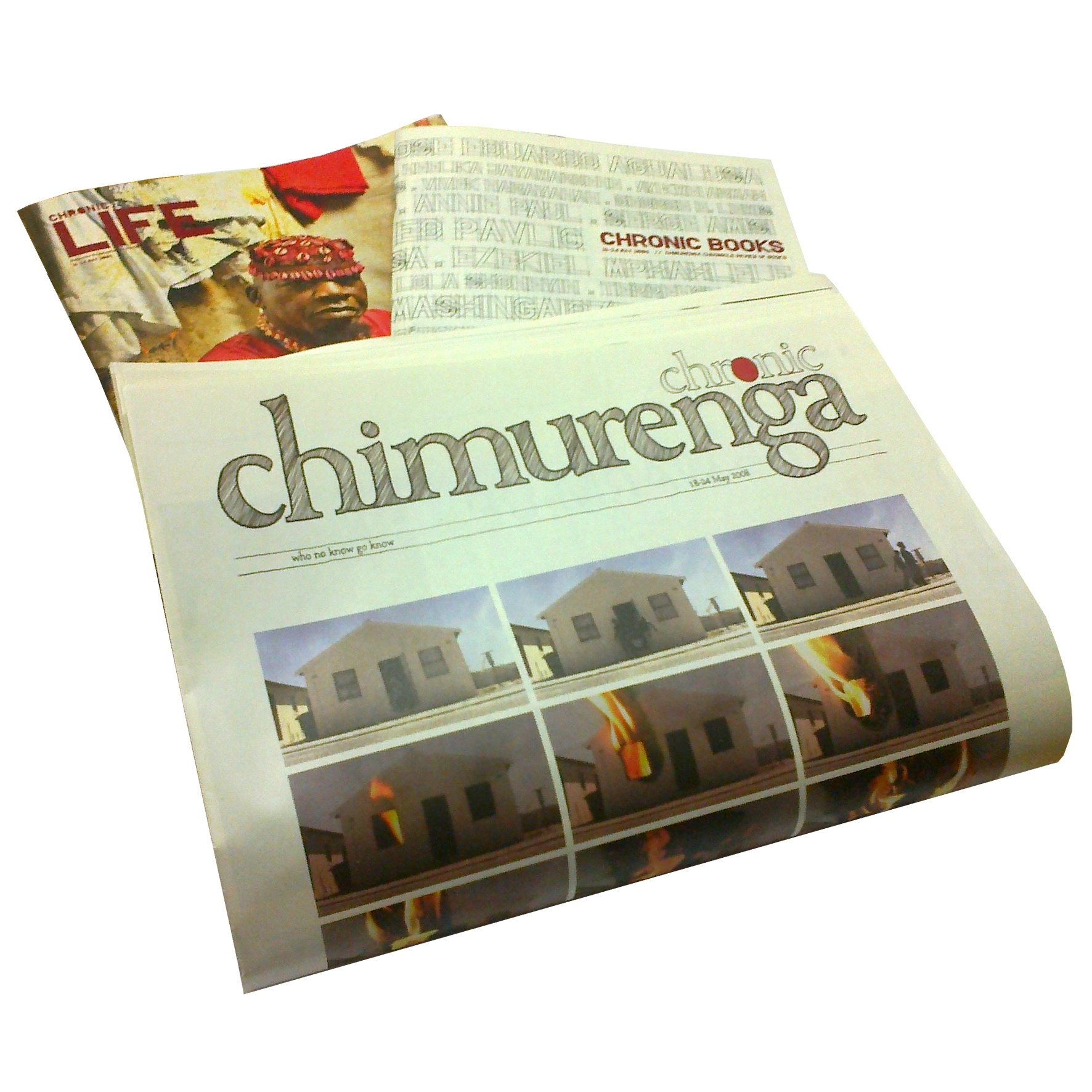 The Chimurenga Chronicle, is the once-off edition of an imaginary newspaper which is issue 16 of Chimurenga. Set in the week 18-24 May 2008, the Chronic imagines the newspaper as producer of time – a time-machine. The print edition includes a 128-page multi-section broadsheet, packaged with 40 page Chronic Life Magazine and the 96 page Chronic Book Review Magazine.
An intervention into the newspaper as a vehicle of knowledge production and dissemination, it seeks to provide an alternative to mainstream representations of history, on the one hand filling the gap in the historical coverage of this event, whilst at the same time reopening it. The objective is not to revisit the past to bring about closure, but rather to provoke and challenge our perceptions.